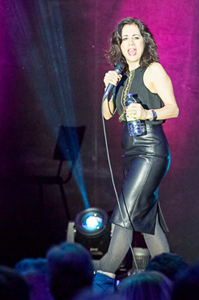 Ellen Karis is the "Greek Goddess of Comedy," and has had a successful career performing in North America alongside such notable comics as Drew Carey, Tom Papa, and Bobby Collins. The entertainment industry has hailed her as the "little dynamo," given her petite stature, strong improv skills and her ability to build a quick rapport with any audience. Born and raised in NYC in a traditional strict Greek home, her brand of sarcastic, observational humor has been described along the same lines as comedy legends Joan Rivers and Richard Lewis.
Her energy and passion to bring laughs to the crowd is a must see, as she jokes about her marriage and family, trying to make it in show business against all odds, addiction to sweets and the absurdities of the ever changing pop culture, youth obsessed world we live in. Ellen also enjoys acclaim and popularity in the Greek-American community, as she is one of the few Greek female stand-up comedians performing today. She frequently performs at Church functions and Greek fundraisers and has a critically and commercially successful Greek Comedy DVD, "Greek Chicks Rule".
Starting her career as a CPA with an MBA, she parlayed her quick wit and job experience on Wall Street to become a political humorist on many of the Fox News Channel and Current TV shows, as well as a frequent guest on talk radio and a contributing writer for The National Herald and Washington Times. After co-hosting an internet radio show for several years, she now has her own weekly radio show "Karis Comedy Corner" on BBOXRadio.com, which is catching quite the buzz. She also guest hosts periodically on CosmosFM, Hellenic Public Radio on FM radio.
Ellen is a trained and accomplished actress, having been in several independent films, webisode series and NYC theatre productions. Ellen will be seen in the upcoming Tina Fey feature film "Sisters". As a writer she has a Blog "Rants from the Greek Goddess of Comedy" and is in the process of writing her first book, which for now she is keeping top secret. Ellen's passion for life extends to her philanthropic causes and actively participates in raising funds and awareness for T.E.A.L. ("Tell Every Amazing Lady") about Ovarian Cancer, the Rebuilding of St. Nicholas Greek Orthodox Church at Ground Zero and the David Lynch Foundation's Operation Warrior Wellness Program teaching Transcendental Meditation to Veterans with PTSD.